Plant Health Care for sick, insect infested or dying trees.
The most common reason a tree owner calls an arborist is concern that something is wrong with a tree. It may be that some of the leaves are discoloured, a branch has died, or perhaps the entire tree has been dropping leaves. Sometimes the cause of concern is a minor problem that is easily explained and corrected. Other times the problem is more complex—with several underlying causes and a remedy that requires treatments extending over several years. Unfortunately, there are instances in which the problem has gone undetected for so long that the tree cannot be helped, and the only option is removal. If an arborist had been called earlier, perhaps the tree could have been saved.
Situations such as these led Evergreen Tree Cares arborists to create Plant Health Care (PHC) programs. The objective of PHC is to maintain or improve the landscape's appearance, vitality and—in the case of trees—safety, using the most cost-effective and environmentally sensitive practices and treatments available. Plant Health Care involves monitoring, using preventive treatments, and adopting a strong commitment to working closely with you.
Evergreen Tree Care can enhance all of your plant material with a program of Liquid fertilizer, Insecticide and Slow release fertilizers. We apply these products with a hand held hose (100m long) from our 500L or 1500L tanks. Throughout the year we bring the best out in your plants while building up your soil health in a sustainably environmentally friendly way. For large trees we will inject the products deep into the roots, with other vegetation such as shrubs and turf we find soil drenches are the most effective.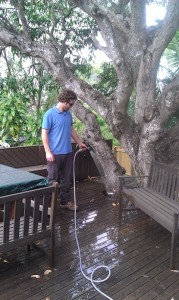 You can have all or just one of these services as often or as little as you wish. Our programs are obligation free, so you are not locked into anything. We take the hassle out of having a beautiful garden, with our prompt, friendly service and you don't have to be home if you are busy, which is great for when you travel and are concerned that the garden is going to get neglected and be nearly dead when you get home! Why worry about your trees and garden when we can do that for you.
How Will My Trees and Shrubs Benefit from PHC?
Because ornamental trees and shrubs can quickly succumb to problems, routine monitoring and timely treatments can protect your landscape investment and reduce expenses. A monitoring visit to your landscape might reveal Your Plant Health Care specialist can recommend treatments and changes in maintenance practices that can eliminate these problems while maximizing the safety and aesthetic quality of your landscape and the value of your property.
What Will a PHC Program Cost?
Because each program is individually designed to fit the needs of a particular landscape, no standard price can be given without a site visit and assessment. You may have an interest in developing a plan for a few key trees in your landscape, or you may wish to have the entire landscape placed on a program. PHC programs can also be structured in different ways. So give Evergreen Tree Care call today.
Nick Smith 0414 815 688 or Henk Morgans 432 920 715.
 http://www.evergreentreecare.com.au/
evergreentreecare@hotmail.com