Evergreen Tree Care is a professional tree service based in Brisbane.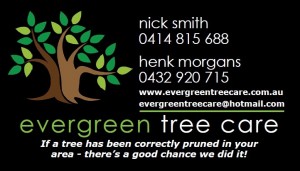 Professional Tree Services Brisbane Northside.
Our goal is to improve the quality of urban tree work in Queensland. We aim to do this by providing quality tree care, while recycling those acquired skills and techniques back into the up in coming ranks of future Arborists.
We also aim to inform our clients of all the options available to them; so they can make an informed and educated decision on how to approach their tree care needs ethically, sustainably and economically.
As Arborist we also provide an effective response to issues surrounding neighbourhood trees and the legislation to protect and maintain significant vegetation in the urban environment.
Evergreen tree care is a Brisbane based arboricultural tree services company. Arboriculture is a term used by plant specialists who conduct a varied range of the latest plant management techniques.
We have been conducting premium quality tree care throughout the Brisbane area for nearly 15 years. We offer a wide range of arborist services to suit all domestic and commercial requirements.
Brisbane metro based
like us on facebook
friendly and professional
fully insured
visit us at our forum at "intotreecare.com"
Specialising in
soil injection for plant health care & disease management
tree reports & consultations
transplants & plant installations
All forms of tree-industry training & development
Palm and Tree pruning
Arborist Brisbane
Contact us to request a quote.